Skip to Content
Receive special offers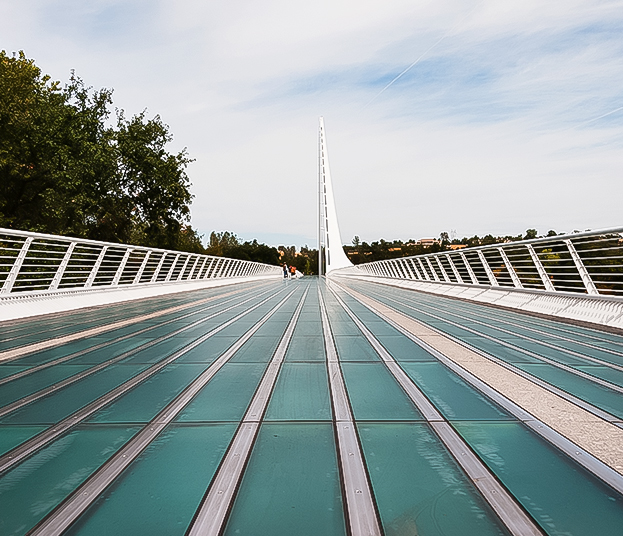 Sundial Bridge
Stretching across the Sacramento River, this iconic bridge is a working sundial with elegant modern architecture and a glowing glass walkway. Dog walkers, joggers and bicyclists flock to the trails around the cantilevered span.
Distance from hotel: 10.5 Miles
Phone: (530) 243-8850 
Sacramento River Trail
Redding, California, 96001
About Us
Stroll Across the Futuristic Sundial Bridge, Turtle Bay's Natural Clock
Experience an ingenious feat of engineering that is part science project and part work of art. This sensational span across the Sacramento River is a working sundial-the world's largest-that connects the two sides of Turtle Bay Exploration Park. Be wowed by its astounding architecture, including a striking white tower and translucent glass block walkway. Because of the sundial's massive size, you can see the Earth's rotation with your naked eye on its dial plate. Watch the tip of the shadow, which moves at a speed of one foot per minute. The fully suspended Sundial Bridge never touches the water and is illuminated with an aquamarine glow at night. Near the iconic attraction you'll find biking trails, botanic gardens, butterfly pavilions, and pioneer exhibits at Turtle Bay.

Details
Prices - Free
Hours - 24/7

Events
Turtle Bay Farmers Market
Brews by the Bridge
Paint Night at the Museum
FAQs
How long does it take to walk across the Sundial Bridge in Redding?
Walking across the bridge takes about 15 minutes, with stops for snapping selfies, watching for wildlife, and enjoying the peaceful river scenery. Allow several more hours if you want to check out the exhibits at Turtle Bay Exploration Park.


How does the Sundial Bridge work?
The sundial's giant pylon points due north and casts a shadow from the sun onto a large dial. This shadow can be used to accurately tell the time in spring, summer, and fall from 11:00 a.m. to 3:00 p.m.
Activities
Walking
Free Interpretive Tours
River Scenery
Biking
Solar Phenomenon
Museum Exhibits